CURRENT REVIEW:
SIZABLE SINGLE SUPPLEMENTS: A SINGULARLY BAD IDEA
by Sally J. Maisel
---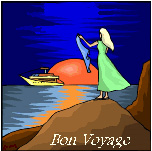 ---
Any brave soul who has cruised solo will have come face to face with the travel-industry ogre: the dreaded single supplement.
While cruise fares seem to be the lowest in years, the solo traveler finds his or her fare is half again as much, and sometimes twice as much, as someone traveling as a couple.
Most solo cruisers travel less frequently or give up on cruising altogether, choosing to let the ship sail without them—permanently.
Naturally, there is a strong economic basis for the cruise lines' decision to charge a single supplement. The ideal goal of the cruise industry is to have every ship on every itinerary sail at full occupancy. But while this is an ideal goal, the cruise industry may be shooting itself in the foot with an unbending single-supplement policy.
In the solo traveler's jaded mind, executives at the mythical Megabucks Cruise Lines are sitting around a table, planning fare policy and single supplements. Mr. Big grins maliciously, rubs his hands together, and exclaims, "Let's see how painful we can make it for the solo traveler. After all, he's taking up the space of two people and denying us all the revenue that two people can bring. Only one cruise fare. Only one person buying drinks and playing in the casino. Only one person signing up for tours. We gotta keep that space open to increase our bottom line."
Of course, this scenario does not exist but wouldn't if be nice if a different one did? Imagine if forward-thinking Mr. Little raised his hand and said, "We keep thinking of solo travelers as a detriment. What if we start thinking of them as an asset and figure out ways to use them to our advantage?"
It's time for the cruise lines to think outside the box, to shift the paradigm, to find synergistic programs for the solo traveler. Once they do that, they can dispense with the meaningless corporate hyperspeak that went out with the last century, just as their rigid single-supplement policy should have.
The reality is that not every ship on every itinerary on every sailing achieves that 100 percent occupancy figure, particularly as new megaships are introduced almost every month. Time of year, destination popularity, economic conditions, the political climate and a myriad of other factors affect sailings, all factors to which the solo traveler could be less susceptible if a good price were factored in the bargain.
Cruise lines tend to think that the revenue generated from two people is automatically greater than the revenue from one person occupying a cabin. This is basic, often fallacious, reasoning. A couple on a cruise might enjoy a cocktail together in their cabin, while a single person is more likely to go to the lounge for the company of other people. A couple might rent a car and tour an island on their own or with another couple, while the single person would probably prefer to go with a supervised group and sign up for a ship's land tour. Solo travelers tend to have high disposable incomes are know to treat themselves well, with trips to the spa and hair salon, and massive purchases from the gift shop. The solo gambler might sit at a slot machine for hours, with no one to impatiently pull her away, nagging at her that it's getting late and she should stop losing so much money.
More importantly, if the ship is sailing with empty cabins, isn't it better to have one person occupying it who will produce tip money for the waiters, assistant waiters, room stewards and bartenders than to have them serve half-full tables? After all, a waiter doesn't care if his table for eight has three couples and two solo travelers, as long as he's getting tips from eight people.
Yes, two people in a cabin is preferable to one person. But if a ship has empty cabins within, say, a month from the sailing date, it would be much easier to fill that space with a single traveler than a couple. Single people have much more flexibility, since they only have to deal with their own preferences and time. Two people means two schedules that need to coincide, two destinations that must be agreed on. She wants to go, but he has an important performance review coming up. He wants to go, but she's got doctors' appointments and the garden club meeting that week. A solo traveler is responsible only for her own schedule and she might be willing to take a less desirable cabin or a repeat itinerary if the supplement were reduced or waived.
So keep the single supplement as it is, until 30 days before sailing. Solo travelers who want to plan ahead or choose a specific cabin are welcome to do so, provided they pay the added cost. This keeps the cabin open for double occupancy. But 30 days before sailing, the race should be on to fill the ship any way possible, and allowing singles to travel economically would do just that.
The proliferation of cruise line web sites and Internet-based travel agencies would only aid the cruise lines in achieving this goal. Either or both entities could compile an email database of potential customers, just like any other business does. As the sailing date approaches and cabins sit empty, the lines and agents could target the solo traveler and make an appealing offer that would fill the ships. Many independent travelers have the flexibility and desire to jump on a deal that doesn't penalize them with a hefty supplement.
What do the cruise lines have to lose by instituting a more reasonable single supplement policy? The ship is still going to sail, consuming fuel, requiring crew, stopping at ports. Why not fill the cabin with one person instead of no persons out of spite?
What do the cruise lines have to gain by instituting a more reasonable single-supplement policy? For one thing, they could increase their passenger census and add money to their bottom line, while continuing to allow their crew to earn a living. For another thing, it would engender tremendous support and loyalty from solo travelers, who most likely would return to that line with their spouse, relatives or friends when they're not cruising solo.

Feel free to send your comments to:


cruiseflash@aol.com






---
Link up to other cruise-related sites. Click below!
Information about CRUISING SOLO: The Single Traveler's Guide to Adventure on the High Seas

The latest news, bargains, itineraries and information for the discriminating cruise traveler

Comprehensive source of information about freighter travel

Information about freighters, barges, steamboats and expedition ships

---
---
Sally J. Maisel
ReviewEditor@cruiseflash.com
7454 Tyrone Ave.
Van Nuys, CA 91405
United States